Survey results.


How can we reduce our workplace carbon footprint?
This is the question we asked you in the last issue of Insider. Here's how you responded:
1. 100% GREEN ENERGY TARIFFS
3. CARBON OFFSETTING BUSINESS TRAVEL
4. MILEAGE EXPENSES / REIMBURSEMENT FOR SUSTAINABLE BUSINESS TRAVEL
5. IMPLEMENT SUSTAINABLE LIGHTING (LEDS)
6. ANNUAL CARBON FOOTPRINT ASSESSMENTS
7. MEAT-FREE MONDAYS / CPDS / MEETINGS
8. INCENTIVES FOR CAR POOLING
9. RECYCLED / ENVIRONMENTALLY FRIENDLY TOILET PAPER
10. SUBSIDISED BUS PASSES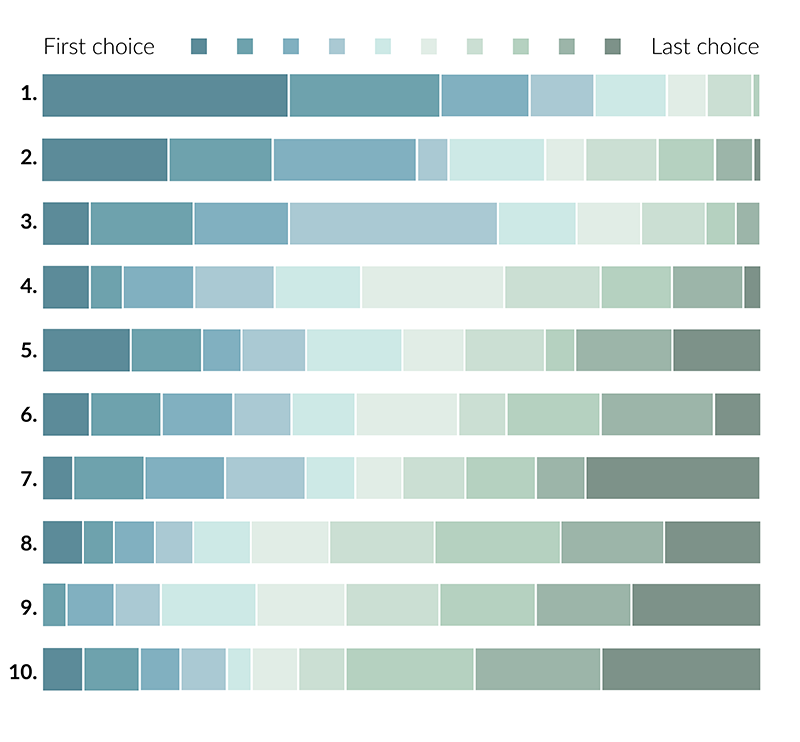 Two of the top suggestions – '100% green energy tariffs' and 'Carbon offsetting business travel' – would see little disruption in the majority of our working lives, but would require investment to further support renewable energy and initiatives. Installing sustainable lighting was also in the top five and is another option that requires less individual day-to-day effort.
On the other hand, 'Food waste recycling' was very popular and chimed in with many additional requests for more extensive recycling options overall. It shows that many of us are keen to let as little go to waste as possible, so given the facilities, there's definitely an appetite for recycling.
This type of survey doesn't necessarily indicate that people don't want to support the options towards the bottom of the table, but rather, highlights the options that people ranked as most important.
Another important factor to bear in mind was pointed out on Yammer by Tom Wigg in Sustainability:
"We should be conducting an evidence-based impact assessment on what would have the greatest benefit for the lowest cost, grabbing the lowest hanging fruit first and then setting out a robust plan for tackling the other contributors."
Our five-point climate action plan contains many firm-wide and local initiatives to help us reduce our workplace carbon footprint. You can read more and see the full list here.
Additional suggestions:
Lots of people have suggested that current incentives for driving be dropped, with new incentives for more sustainable travel options introduced. Suggestions included removing travel expenses by car or free car park passes, and introducing free bus passes or subsidised rail passes. One suggestion that stood out was around our car allowance and driving scheme, with many asking for incentives to choose electric or hybrid vehicles.
There were also plenty of suggestions around reducing travel by encouraging more Skype calls and video conferences, encouraging working from home, and even reducing the length of the working week.
From a policy point of view, there was a pattern of people asking for more extensive and regular reporting around things like wastage and energy use. Others wanted to explore how we could automate how facilities and equipment is used, such as computers and air conditioning. This chimed in with requests to better manage and optimise how our offices are powered, heated and cooled.
The majority of suggestions related to the provision and management of office facilities. Lots of people requested tighter restrictions on what, and how much can be printed. Reducing packaging in the things we consume, like fruit, catering and cleaning supplies was a prevalent suggestion, as well as choosing sustainable products. There were also a large amount of people calling for better recycling provision.
---
And next...
Us at our best: the awards. Did you nominate someone?
This was the inaugural year for the awards, so we want to make it even better next year. We'd love to know what you think.