Courageous collaboration.




The team award for overcoming adversity.
This award is for a team of our people who have come together to tackle a challenge and succeeded. They have recognised that by working together they can achieve a better solution. This award is for a cross-discipline team that has a minimum of two different disciplines in it (MEP, Specialists, CMGs or admin) who have come together for a business challenge or a project challenge.
The shortlist: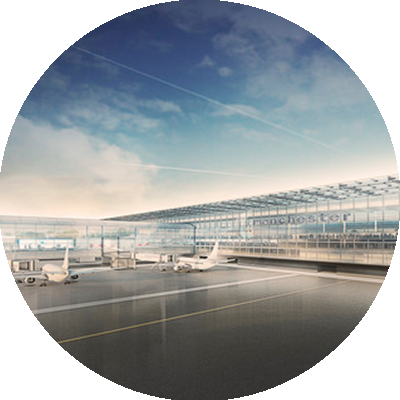 THE MANCHESTER AIRPORT TRANSFORMATION PROGRAMME TEAM
Manchester, Leeds, Birmingham, London, Fire, Lighting, Acoustics, Vibration, Air Quality, VT, Sustainability and Daylighting.
Over 70 people from Manchester, Leeds, Glasgow, Birmingham, London, Acoustics, Vibration, Air Quality, Lighting, VT, Daylighting, Sustainability, Fire, L&C and Business Information Management.
The Manchester Airport Transformation Programme is a massive £1bn investment project. The aim is to develop it into a world-class operation – one that can handle millions more passengers every year. We have incorporated off-site manufacturing into our designs to ensure the project is as cost-effective as possible. It demands absolute commitment to collaboration with the client and design team, but the pay-off is worth it.
EXCERPT FROM NOMINATION
"The project has delivered an extraordinary level of collaboration within Hoare Lea, as well as requiring very close connections with the client and design team. We even co-located the Laing O'Rourke delivery team into our Manchester office, providing day to day coordination of design and cost management."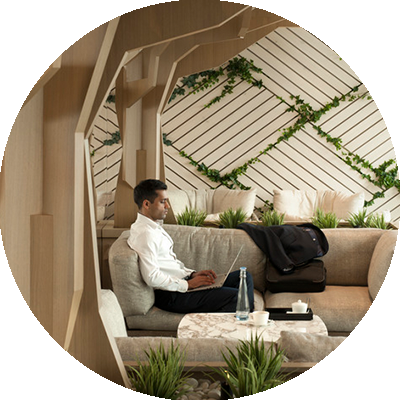 THE 1 NEW STREET SQUARE TEAM
London, Sustainability, VT, Acoustics, Security, Lighting, Intelligent Buildings, Performance
Cameron Henry, Colin Gwyn, Chloe Green, Sam Carlsson, Tom Spurrier, Matt Grantham-Hill, Matt Brown, John Taylor, Juan Ferrari, Mike Bedford, Eimear Moloney, John Lloyd, Oliver Lockhart.
1 New Street Square is a pivotal part of Deloitte's campus masterplan. Deloitte spans multiple industries and services in independent firms. The overall aim was to rationalise the company's buildings from five down to four, and – in doing so – create future-proofed spaces that work better for the business and its staff. With 4,000 fewer workstations than staff, we utilised the building's data to monitor and optimise how various spaces are used.
EXCERPT FROM NOMINATION
"The 1 New Street Square team adopted a truly collaborative approach from the outset of the project in July 2015, accepting the challenge and adapting to the changing needs of the client through the duration of the project. All of the hard work has resulted in a global first being achieved with a project that has simultaneously achieved BREEAM 'Outstanding' and WELL 'Gold' certification. Awesome work team!"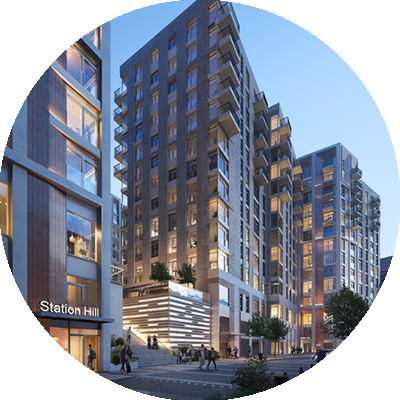 THE STATION HILL TEAM
Bournemouth, Bristol, Fire, Acoustics, Security, Sustainability, VT, Facade Access, Legal & Commercial
Nicola Bagshawe, Stuart Morris, James Henry, Nick Jerrard, Ian Gow, Gonzalo Pastor Peñalba, Oliver Price, Leo Girling, Tom Hills, David Dymott, Clive Dunmore, Joe Belchem, David Croft and many more…
Station Hill is a major residential, commercial workplace and retail development, situated on the doorstep to Reading Station. Creating a new gateway for Reading, the aim is for it to be a 'best in class' destination project. As a truly mixed-use development, it will become a new town quarter made up of contemporary living, working, leisure and open community space. The scheme is exceeding sustainability targets and, in the case of the residential offering, it is targeted to achieve zero carbon.
EXCERPT FROM NOMINATION
"The collaboration between groups, working in a flexible arrangement, has been a major factor in contributing to our successful relationships on the project. Partners and associates have been interchangeable, stepping in for each other and giving us the strength and depth to deliver for a demanding client and two main architects, without wasting time debating scope, interoffice working, or worrying about not having senior people in the room. Perhaps a model for all major projects going forward."
The longlist:
Andy Hill and the team behind improving the firm's Revit experience; Chris Booth and the team behind the improvement of the firm's internal communication capabilities; Daniel Compton and the Nine Elms Square team; Keith Horsley and the team behind the creation of the new Policy and Guidance webpages; Kevin Couling and the Oxbridge Sustainability team; Lena Kotina and the 245 Hammersmith Road team; Paul Cornwell and the Bournemouth University Poole Gateway team; Paul Judd and the Athletes Village team; Rupert Horne and the Royal Liverpool University Hospital team
Continue to
Pride in performance.